New ways to support and engage with your workforce
Organisations are adapting to remote working and this has seen a substantial shift in how we engage with our employees.Businesses have had to adapt quickly to new working practices in order to allow employees to continue in their day-to-day roles. As this change becomes the 'new normal' it is essential that managers provide support and guidance to enable employees to continue to be engaged and to develop in line with the needs of the organisation.
SAP SuccessFactors solution to manage your employee performance
We understand the challenges faced by organisations in these changing times. A key task is keeping the workforce engaged when there are additional pressures that employees have not previously encountered.
To support the continual engagement between managers and employees, itelligence offer services using SAP SuccessFactors Performance and Goals to allow Continuous Performance Management (CPM).For customers who already utilise the SAP SuccessFactors Performance and Goals solution, we will provide a rapid implementation of CPM based on the itelligence ready2run solution. The package consists of:
Best practice process maps
Set up of the CPM process
System configuration
Administrative training and knowledge sharing
Mobile enablement
Remote delivery view
For customers who do not yet have SAP SuccessFactors, the package includes all of the above, plus:

Set up a branded home page
Assistance with employee data imports
CPM capabilities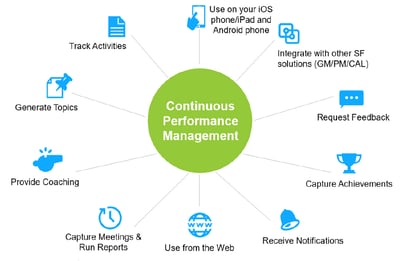 Our solution
Continuous Performance Management within SAP SuccessFactors Performance and Goals:
Helps improve employee engagement and overall workforce performance by facilitating informal check-ins and continuous dialogue between managers and employees.
Managers have increased and continuous visibility into employee activities and achievements, enabling them to provide coaching and guidance when it is relevant.
Employees may give and receive feedback at any time, to or from anyone in the organisation.
The modern, mobile-enabled approach helps foster happier, more engaged employees, and higher performance that is aligned to business goals and strategies.
Helps create vast efficiencies in the annual review process.
Your benefits at a glance:
Rapid implementation of Continuous
Performance Management
Access through mobile devices
Best practice process guidance
Remote delivery to enable an immediate start (Less than 5 days of implementation time)
To find out more complete the form and we will reveal to you how to manage employee performance across your organisation.
Access the solution brief
Find out more by accessing our solution brief PDF here